Discussion Starter
·
#1
·
I have the Remmy 870 Express Tactical.
My brother-in-law picked me up a Remmy sling from Cabela's, but when attached and fully expanded, its too taught to be useful. I assume this is because the 2-shot magazine extension moves the sling attachment point further forward. So I'm in the market for a new sling.
My brother-in-law also picked me up a buttstock saddle to hold 5 extra rounds. It serves its purpose of holding extra rounds, but I don't like the fact that it could get in the way if I have to shoot opposite handed. The
Zombie Guns Thread
turned me on to this Blackhawk sling, which appears to solve the sling-length and extra ammo problems (and by combining two gadgets into one, the result is more simplicity...I'm a big fan of KISS with shotties):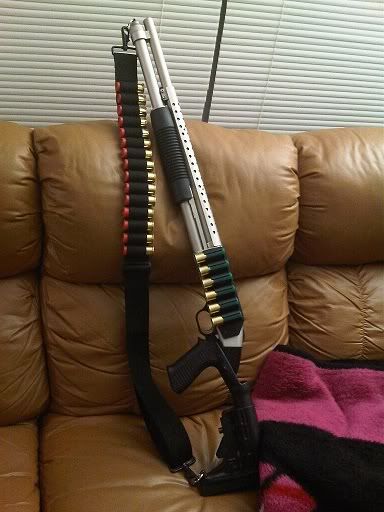 (pic originally posted by seawolfxix here)
I found it over at
MidwayUSA for $17
which is
$4 off the MSRP from Blackhawk
.
Here's my questions:
1. The sling goes from 29" to 39". That's enough, right? I'll measure the distance before I purchase, but the Mossberg 590 shown above appears to have a magazine extension and there is plenty of slack. Should work for an 870 with 2-shot extension.
2. The reviews over at MidwayUSA (and even comments in the Zombie thread) indicate that this sling won't attach to the 870 directly. I assume the Blackhawk sling swivels (available in
1"
and
1¼"
for $10) will allow the sling to mount to the 870, correct? Anyone have any insight/experience/photos using these swivels? Any opinions on which size (1" or 1¼") works better?
Thanks for the help, guys.