Discussion Starter
·
#1
·
Heres the story:
Well I Owned a mossy 835 for a few years and it never quite fit me right. This past year I broke down and bought Remington 11-87 to dedicate to my deer hunting and man it fits me so much better. Ive owned a Remigton 870 in 20 gauge for sometime but it has a womens/youth stock and 21 inch barrel (my wife recently stole it). After hunting season I decided I was going to finally build a dedicated HD gun around the Remington 870 action.
I put the mossy up for sale since my 11-87 took over for hunting and the mossy never quite fit me, nor did I care for the tang safety. I scoured the net for a SUPER deal on an 870 since the only part of the gun I truly wanted was the action. Since I sit at a desk all day, I kept gunbroker pulled up :grin: . I found a decent deal (would have been better without shipping charges and transfer fees) for a used 870 in good condition. The pictures dont really show it but there is a spot of surface rust here and there, the finish of the wood is also worn a noticable amount. The gun will be sand blasted and refinished so the surface rust means nothing at this point. I have all of the parts on order but the stock is back ordered 1-2 weeks
. Here are the pictures of the gun as I recieved today. I have not wiped it down or cleaned it. I will post pictures as the project progresses.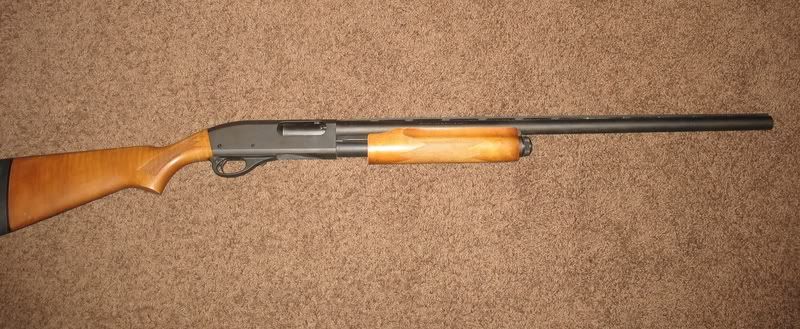 Tonight I will tear it down and begin to smooth the action up a bit by stoning off any residual machining marks or burs as well as polishing up the contact points. After that I will tear the trigger group down and polish everything up in there so it works smooth and reliably.