Discussion Starter
·
#1
·
Army Special Forces are going to have a Green Beret commander, Lt. Gen. Bryan Fenton, and the Marine Corps is going to have a second four star general, Lt. Gen. Michael Langley.
Gen. Langley will get a 4th star along with this command appointment and though the article doesn't say if Gen. Fenton will get a 4th star with his command appointment but if not it will definitely pave the way.
Both of these generals are very experienced, remarkably intelligent, and highly qualified and their appointments may indicate a change of direction for both services in regards to special operation strategies and tactics.
It's been quite a while since Army Special Forces had a commander that was also Special Forces so I imagine this will benefit them as a group and no doubt enhance their performance even more.
The Marine Corps usually has only one four star general at a time; the Commandant, so this is big news in the Corps. While a lot is being made of Gen Langley being black to me the fact that he has achieved four star rank in the Corps which puts him up there with the Commandant is what I find really impressive and interesting.
I once ate lunch with General Lew Walt, a legend in the Marine Corps, and the first four star assistant Commandant.
No, it wasn't because I was singled out for being special or anything. He was on an inspection tour and just happened to walk into our mess hall and sit down at our table which made me and the other 3 Marines sitting there rather nervous and I can only imagine how it affected the cooks
but the brief time we spend talking with him was quite interesting and is a special memory of mine.
Anyway salutes and huge congrats to these two gentlemen.
Another military related development which unfortunately isn't a good thing.
I sent what little I could afford to get this gentleman a new roof. For a member of the Code Talkers and fellow Marine it's the least I could do.
I've been through the Navajo-Hopi Rez area more times than I can count. It's an amazing landscape and one of my favorite places to ride a motorcycle.
Anybody who has ever been there can easily understand how John Ford fell in love with the place and the Dine, the people.
Ride Safe. Dr.Tramp..............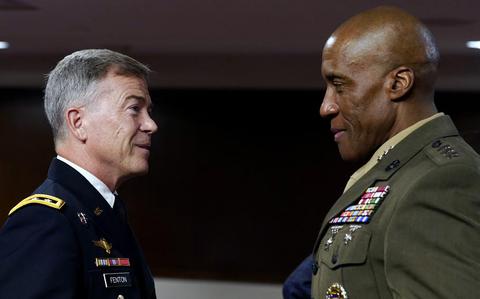 The Senate has confirmed Army Lt. Gen. Bryan Fenton to lead Special Operations Command and Lt. Gen. Michael Langley to lead U.S. military forces in Africa as the first Black four-star general in Marine Corps history.

www.stripes.com