Just installed a receiver rail and a Sightmark Mini Shot holographic reflex sight on the 590. Picked it up for $80 w/free shipping at opticsplanet.com.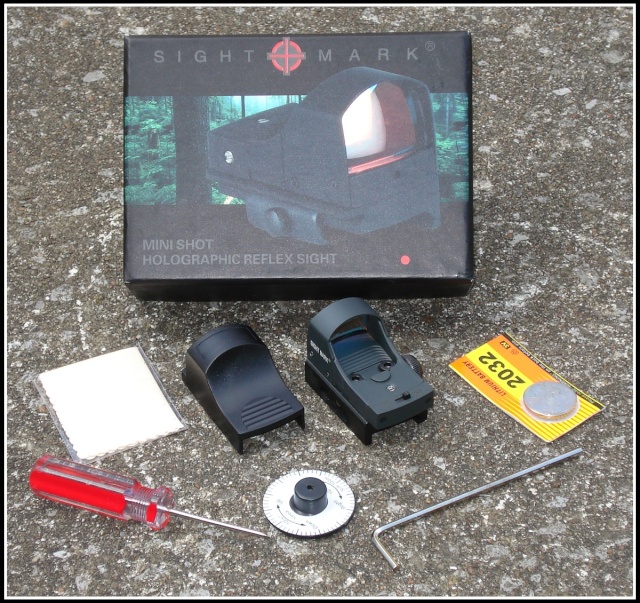 The Sightmark series of reflex sights are designed to create a lightweight, yet accurate, sight. Sightmark reflex sights are able to handle heavy recoil, will stay zeroed in longer than competitor's reflex sights and are perfect for shotguns, pistols and rifles. The Mini Shot™ is the most compact in the Sightmark line; it is lightweight and extremely accurate for its miniature size. This reflex sight features a 3 MOA illuminated dot reticle and is useful for most any application from close quarter combat situations to hunting. The Mini-Shot's compact size makes it perfect for use with handguns and shotguns; which can then be utilized for home defense, target shooting, or turkey hunting. To create the ultimate weapon, mount the Mini Shot alongside a riflescope in order to quickly acquire targets at close distances while utilizing the riflescope to engage targets at long range.
Features
Precision Accuracy
Reliable and Durable
Wide Field of View
Quick Target Aquisition
Perfect for Rapid Fire or Moving Target Shooting
Single Reticle*
Parallax Corrected
Unlimited Eye Relief
Weaver Mount
Lightweight
Water Resistant
Shockproof
Low Power Consumption
3 MOA Dot
Specifications
Magnification: 1x
Objective: 23mm x 16mm
Field of View: 15.7m @100m
Eye Relief: Infinite
Coating: AR Red
Water Resistant: Yes
Reticle: single (3 MOA dot)
MOA Adjustment: 1 (one click)
Battery: 1 (One) CR2032 3V Lithium
Battery Life: 2 Hours
Brightness Settings: N/A
Max Recoil: Up to .50 caliber
Construction: Aircraft-grade Aluminum
Operating Temperature: -10°C to 50°C
Dimensions (in): 8.13x1.0x1.4
Weight (oz): 2.4
Included in Package
Rubber Lens Cap
Adjustment Tools
Battery
Limited Lifetime Warranty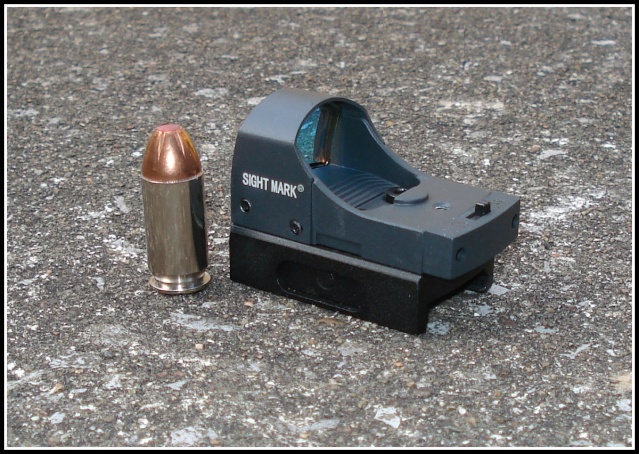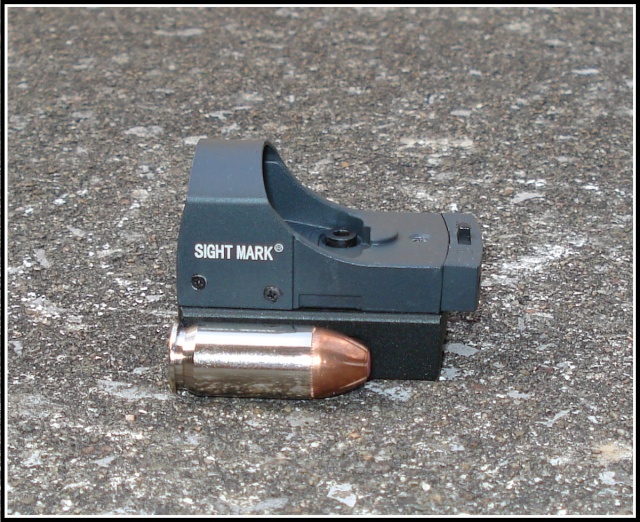 Initial impressions:
This thing is tiny! It seems very well built despite its size and the 3 MOA dot is VERY crisp. The two brightness settings make for quick adjustment depending on your lighting conditions. It has a light censor that when you put the hood on, switches the optic into sleep mode.
Mini Shot Reflex Sight (SM13001) | Sightmark