My Vizla Daisy, a runt rescued so she would not be put down. She was a hunting dog not just birds.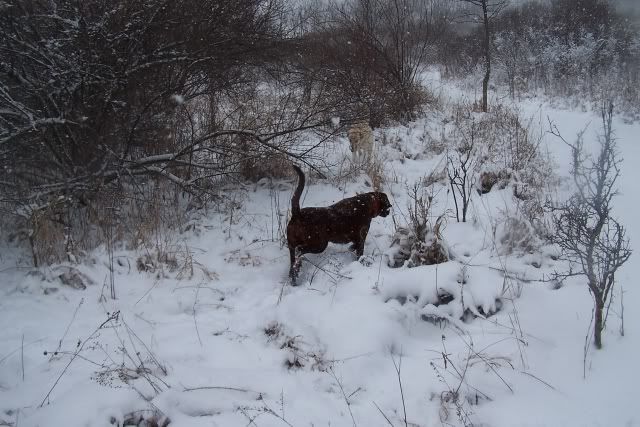 My springer Bosco, a hard headed male a rescued from the pound pup.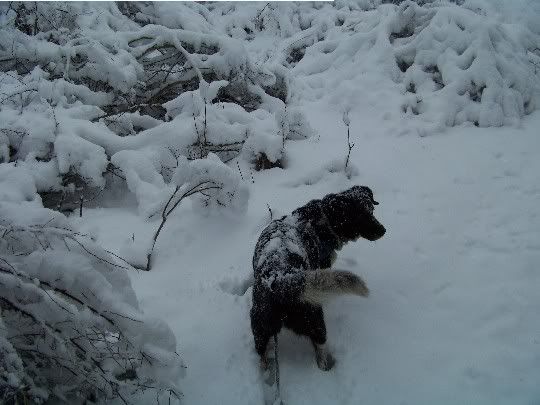 My yellow lab Jewel, rescued pound pup a back up to Daisy and Bosco and a want to be lap dog.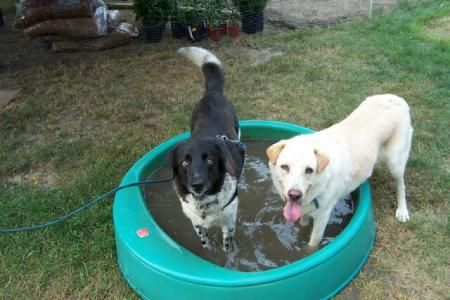 This a chocolate lab Chip, wife bought for our son despite my objections he would not take care of her. I proved right and took care of her. She was gun shy but once you got her calmed down would retrieve birds all day long.
All four of the above are waiting for me to join them at a later date. We did have some great times while they were with me.
Last spring the wife felt I once again need a hunting dog. So after rejecting many as to costly or having bobbed tails I allowed her buy me a Ryman Style English setter. She also bought me a pair on new knees spread over the summer so I could keep up with the pup.
We named her stormy, born during a major snow storm where 14 inches of snow fell. We had been having 60F and 70F temps for a month, when we went to look at her the high for the day was 40F with a wind chill of 29F. The day we went to pick her up to bring her home it rained all the way to the kennel and all the way back home.
Since I was recovering from knee surgery all summer I was not able to work with her as a pup. that was left up to my Kare who has different Ideas from mine.
I live in what in the 1960's was considered the pheasant capital of Michigan. Those days are long gone and no effort by the DNR to restore those days either.
Only pheasants I see today are raised by a friend who plants them for his own pleasure.
Al